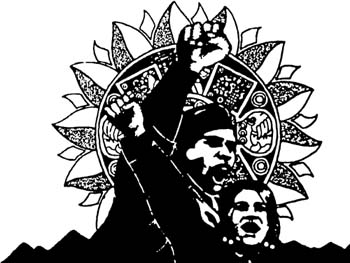 아나클랜 게시판
/
링크
/
물물교환
/
파일공유
/
아나키즘 읽기자료
잡민잡론잡설
/
안티 다국적기업
/
관리자방
/
English
아나키즘도서편찬위원회
/
투쟁과집
/
투쟁과밥
/
군대반대운동
아나키FAQ번역프로젝트
/
재활센터
/
여고생해방전선
/
전쟁저항자들
comments, arguments, suggentions, questions, propaganda, news, information...
Korea IndyMedia
View Article
Name

P
2008-11-05 22:33:42, Hit : 1824

Subject
two questions: Shinmin and Prisoner Support
Hi,
I am an anarchist writer and activist currently living in Barcelona, Spain.

The first question regards the Shinmin autonomous zone from 1929-1931 organized by the Korean Anarchist Communist Federation. I can't find any primary or secondary sources on this period of history, only mention of a book by Ha Ki-Rak which is unavailable. My question is whether there are many sources in Korean on this episode, any translations to English, (especially available over the internet), and any serious contentions as to whether the Shinmin commune was a real and successful example of anarchy.

The second question: a prisoner support group in Barcelona that holds monthly events in solidarity with imprisoned or repressed anti-authoritarians in other parts of the world is looking for anarchist contacts or cases of repression that need fundraising. We do not have any contacts in Korea or the rest of East Asia and I wanted to know if there is any group with members who speak English or Spanish that can get in contact. The monthly events raise awareness about the cases of repression and also raise money to send for legal costs, supporting families, etc.
Please write me,
moonshot [at] riseup [dot] net
dope (2008-11-19 17:02:12)
regarding the first question, it's very hard to find a primary source about it even in korean language, much less english.
and i don't know whether the commune was real or successful.
i have read almost every korean literature about anarchist movement during the Japanese colonial rule (1910-1945), there are not many parts about the Shinmin commune.

for the second question, there are sevral anarchist groups active in korea.
some of them speak english.
actions by those groups are not often translated into other languges like english.
so people outside of korea may think that there is no anarchist movement in south korea, but it is actually getting spread here.
El_Noi_del_Sucre (2008-11-25 01:29:09)
Va a ser un poco dificil encontrar informacion sobre la comuna de Shinmin. Hay un profesor en la uni de Busan (la segunda ciudad de corea del sur) que dice ser anarquista i que debe ser de los que mas saben de esto.

Tengo pensado llamarle un dia de estos a ver si me cuanta algo. Yo tambien estoy investigando i descubriendo la historia del anarquismo coreano i en general de asia oriental (china, corea japon). Pero el/la chic@ esta tiene razon en que casi no hay informacion ni tan siquiera en ingles. Si quieres, en cuanto pueda te mando algun enclace interesante o informacion.

Salut i Revolucio Social