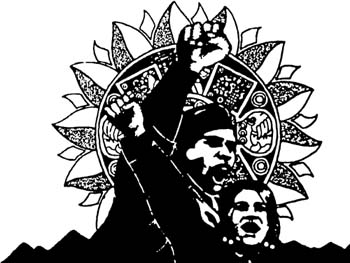 아나클랜 게시판
/
링크
/
물물교환
/
파일공유
/
아나키즘 읽기자료
잡민잡론잡설
/
안티 다국적기업
/
관리자방
/
English
아나키즘도서편찬위원회
/
투쟁과집
/
투쟁과밥
/
군대반대운동
아나키FAQ번역프로젝트
/
재활센터
/
여고생해방전선
/
전쟁저항자들
comments, arguments, suggentions, questions, propaganda, news, information...
Korea IndyMedia
View Article
Name
Subject
In korea for two months already
Hi to all companions here,

There is any place where korean anarchist meet here in Seoul? I really want to know about them. I'm an anarchist from Catalonia. Even a internet forum will do... Just looking for some friendly talk, echange of opinions, to know wich projects are they in, if possible looking to participate. I'm learning korean so I wish it will made thinks easier.

Salut i Revolucio Social
dope (2008-12-16 16:31:12)
sorry for my late reply.
come to the seoulidarity screening to meet locan anarchists and activists who speak english.
for more info, go to http://mediaction.key.or.kr/ex/?q=en/node/396 and you will find some useful information on local actions.


Seoulidarity Screening: ¡Gigante Despierta! Giant Awake!


((i))ndymedia, U.S. 2007, 80mins

time: p.m. 4 ~ 7, 20th of December 2008

place: "Kuchu Camp" near to Hong-Ik Univ. (Directions to "Kuchu Camp")

by: Seoulidarity.net (contact: jonairATriseupDOTnet | 17_285_1974)

With screening, there will be a talk about immigrant workers' movements and documentary-making with Sasha Costanza-Chock who actively participated in this project.



The Giant Awakens: In 2006, a historic mobilization for immigrant rights swept the USA as millions took the streets. Mainstream news media predictably covered the marches with a mix of surprise, ignorance, and racism, yet grassroots media activists were there to document the voices and the stories behind this mass movement.

¡Gigante: Despierta! is a DVD compilation of compelling short films from all around the country, due to hit the streets in the weeks before Mayday 2007. Shot, edited, and brought together by a network of independent video activists, graphic designers, community organizers, musicians, and immigrant rights activists, it is a collective memory and a tool to inspire action this MayDay 2007, when the Giant will raise its voice again to say: we are one people, without borders. We are here, and we are here to stay!