LAST DAYS' STRUGGLE REPORT (서울 8.29)




While the most of MSSC members are busy in organizing migrant workers in the "fields" the different struggles and our solidarity is continuing.
Last Thursday afternoon the disabled people, in sit-in strike in "Jeong-nib" Social Center since now 68 days (a background article you can read here), had their weekly struggle rally. More than 120, mainly KCTU members from different trade unions, such as taxi driver union, power plant workers union, public service workers union, ETU-MB etc., participated. Even the temperature was ugly hot the atmosphere on the rally was powerful.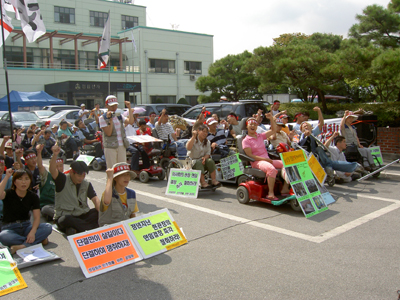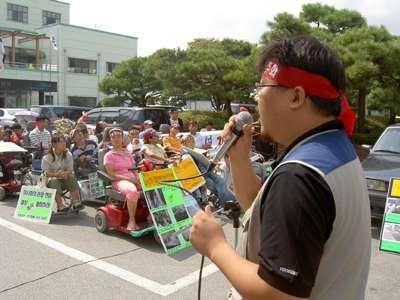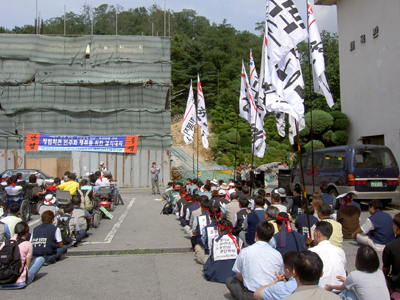 Following the rally we marched to the next subway station (Achasan stn) for to make some public propaganda for to explain the struggle.

On Thursday in the early evening, even only few MSSC members were on the struggle place, we had our weekly rally and about 50 students joined the event.

On Saturday video activist "Hong Kil-dong from the Forrest" and the reporter of this lines participated on the protest rally and demonstration against the ongoing war in Iraq and the fact that S. Korean troops are participating in the war crimes commit by the occupation forces there.
Unfortunately just 400 people, Voice of the People wrote 500 people (just exaggerated), mainly students and only few workers participated. It reminds of the first anti-war rally in fall 2002. On that protest also about 400 people participated, but mainly members of All Together.






The first anti-war rally in 2002



But last Saturday the participants were organized in many different groups…

After this pitiful event we visited a restaurant in the neighborhood of the final rally. Here the people who are renting the place are struggling to defend their existence basis (we already reported here about the background of their story) and we learned about the latest news of their struggle.



Tomorrow, Monday 11 pm, in front of Jong-no District Office
will be a protest against the policy of house destruction.

JOIN THE PROTEST!

SOLIDARITY IS OUR WEAPPON!


More details and background information of this issue perhaps you can read during the coming week.

Last but not least join Tomorrow's "Myeong-dong street concert with us to establish a scholarship foundation for dismissed workers & industrial disaster workers' sons & daughters", we just called it "Every Monday Solidarity Concert". If it's not raining you'll get a surprise performance!! Don't miss the event!!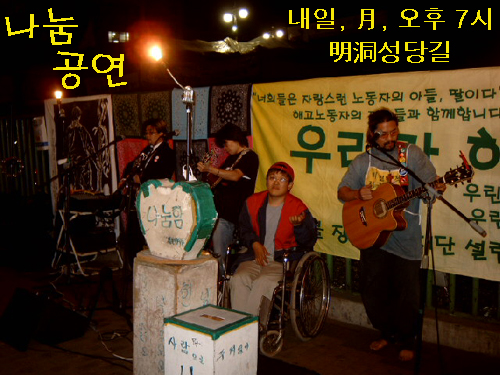 RELEASE ALL MIGRANT WORKERS FROM DETENTION CENTERS!



FREEDOM FOR ALL POLITICAL PRISONERS IN S. KOREA!



LET'S FIGHT TOGETHER FOR A WORLD
WITHOUT EXPLOITATION AND OPPRESSION!



ANOTHER WORLD IS POSSIBLE, ONLY
IF YOU WANT AND FIGHT FOR IT!



WE'VE NOTHING TO LOSE EXCEPT OUR CHAINS!



한국의 모든 양심수들의 석방을 위해 투쟁


착취와 억압이 없는 그날을 위해 투쟁


당신이 그걸 원하고 그것을 위해
투쟁한다면 다른 세상은 가능하다, ! 투쟁!


우리가 잃을 건 억압밖에 없다!